Does God care how we farm?
Does the Bible promote good stewardship of the land or give us the freedom to use and abuse it?
Can Christian farmers be successful despite their beliefs, or because of them?
Could agriculture help us more effectively minister to the needs of others in our community?
Should Christians care about growing their own food?

Come find out at the 2016 Redeeming the Dirt Conference in Gadsden, Alabama!
-Adult Registration: $120 (includes lunch and supper Friday and Saturday)
-Child Registration:  $55.00 (12 and under, babies free, includes lunch and supper Friday and Saturday)
Join other Christian farmers, gardeners, and agrarians from around the country and world as we seek to learn how to better express our love for Jesus through the way we tend the land. The goal of this conference is to encourage, challenge, inspire, and equip followers of Jesus to impact our communities and nation through agriculture.
At the Redeeming the Dirt Conference we will seek to:
1. Encourage Christian farmers to recognize how faithful stewardship of the land can be part of making disciples of Jesus Christ and glorifying God.
2. Encourage those in Christian ministry to consider the power of modeling the Gospel and helping the poor through Jesus-centered agriculture.
3. Provide practical training and tools for more productive, sustainable, and beautiful gardens and farms! Get equipped to begin growing your own food in a way that is both sustainable and fruitful!

Speakers:
Joel Salatin: Farmer, Author, Speaker.  Come hear well known Christian farmer Joel Salatin share about his new book, "The Marvelous Pigness of Pigs: Respecting and Caring for All God's Creation". Discover the amazing productivity of production models that honor God's design during Mr. Joel's entertaining outdoor workshops. Learn more here.
Possible sessions:
–CREATION CARE:  CORNERSTONE OF CHRISTIAN CREDIBILITY
–Fruitful Farms and Families: Getting started in God-glorifying food production.
–Pasture Choreography: Using rotational grazing for healthy, happy animal production.
Brian Oldreive: Founder of Foundations for Farming. Hear from this amazing man whose incredible farming practices and heart for the poor have helped thousands all over Africa feed themselves and come out of poverty! Be challenged by his amazing testimony that ranges from being an award winning farmer and manager of the second largest farm in Africa to losing everything he owned twice and pouring out his life for the poorest of the poor to show them the love of Jesus. Learn more.
Possible Sessions:
–The Story of Foundations for Farming: How following Jesus turned a failing farm into one of the most profitable ones in Africa and ended up blessing the poor.-Abundant, Low-tech Food Production: Brian will share how a few simple principles God revealed to him has allowed thousands of farmers to begin making a profit on their farms.
–Farming and the Poor: As we look to address problems with our food system now and in the future Brian shares the importance of making a plan for the poor.
Nick Ferguson, Homesteader and Consultant: In his own words he is a "Christian, father of 2 boys, husband to the most wonderful woman on planet earth 3rd Generation agricultural consultant Gardener since I was 8 years old PRI Certified Permaculture Designer." He is also host of the Homegrown Liberty Podcast.
Possible Session:
Christian Permaculture: What is permaculture, how should we view it as Christians, and what are some practical ways that it can help us be better stewards of our farms and homesteads?
–Low-Cost Homesteading: How to grow your own food with creative solutions that won't break the bank!
–Simple Plant Propagation: Save thousands of dollars by starting your own trees and bushes from cuttings!
Noah Sanders: Farmer, Author. I will be at the conference to share about my farming story and how God is teaching us to do everything to the Glory of God! Hear practical stories about learning how to run a farm, raise a family, and serve those around us. Learn more.
Possible Sessions:
–Farming for Jesus: A radical look at how following Jesus can impact the way we view farming.
-Agriculture That Changes Lives: How we can use agriculture to bring hope to those around us. We will look at the lives of Booker T. Washington and George Washington Carver and see what we can learn from them that can apply to us today.
Save the Date! October 7th and 8th are the dates of the 2016 Redeeming the Dirt Conference.
Where is the Conference? The conference will be held at Meadowbrook Baptist Church in Gadsden, Alabama.
Click here to learn more about the Schedule for the conference!
Click here to learn more about Accommodations and Meals!
SOLD OUT! Learn More at the In-Depth Training! An optional in-depth training for those interested in being equipped as trainers in Christ-centered agriculture will be held on the 9th-11th at the Rora Valley Farms Training Station in Goodwater, Alabama.
Eat Lunch with Joel Salatin! You can also register for a special fund-raising lunch with Joel Salatin to help with the I Was Hungry Campaign for helping the poor come out of poverty. Just choose this option during registration.
We hope you will be able to join us for this exciting event!
What you will learn: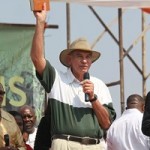 -The importance of agriculture in the Kingdom of God
-The impact a Christian worldview has on agriculture.
-How we can use agriculture to minister to others, both physically and spiritually.
-How God is using Christ-centered agriculture in Africa to change people's lives, and how He can do the same in the United States.
-Examples of simple, proven agricultural methods that honor God's design in Creation.
What you will do:
-Fellowship with other people from around the country and world who are passionate about Jesus and tending His land.
-Practice putting in a small garden plot without expensive machinery!
-Build a compost pile that produces a low-cost, quality, all-natural fertilizer
-Pray for and receive prayer from other farmers.
-Come up with an action plan for how you will use agriculture to impact your community.