Are you ready to start using agriculture to reach out to your community? Or are you interested in being equipped with tools that will empower work you are involved in on the mission field? Do you desire to be a trainer of Foundations for Farming? Then join us for the In-Depth Training Course to be held July 29-31 following the Redeeming the Dirt Conference.
The In-Depth Training Course is meant to be training for trainers. While the conference is a great way to be inspired, encouraged, and exposed to Foundations for Farming and other forms of God-honoring agriculture, there is limited opportunity for one-on-one training and mentorship. Those who attend the course will be able to get personalized, specific, and practical training catered to their situation and goals.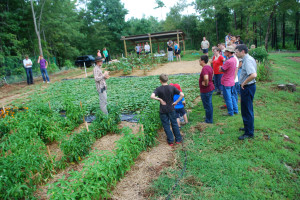 This course is perfect for those interested in agriculture as a productive way to serve God, provide for others, and make disciples.
-Farmers
-Church leaders/members
-Missionaries
-Gardeners
-Anyone with a passion for Jesus who has an interest in agriculture!
The goal of this course is that you come away equipped to train others in Foundations for Farming.
Your trainers will be:
-William Tom, Foundations for Farming trainer, Harare, Zimbabwe
-Dan Vissani, FfF Trainer, urban outreach specialist
-Noah Sanders, Farmer, trainer, US Rep for FfF.
See our Speaker Page for more info.
While the course will be catered as much as possible to the needs of the participants, the following are some of the things that may be covered/included.
-Detailed introductions; getting to know the participants' specific needs and expectations; an opportunity to "debrief" from the main conference
-"What could go wrong?" i.e. an opportunity for William to share success and failures from the history of FfF in Zimbabwe in their efforts to reach the poor
-How to get started in conservation agriculture: practical ideas
-Hands-on training in the field.
-In depth agronomy, gardening, composting, field crops, small scale poultry.
-Practice training others.
-How to make a plan for the poor in your community: sharing examples from around the country/world
-the "Five Giants," i.e. common reasons given for the inadequacy of conservation farming and rebuttals
-Perspectives on ministering and teaching agriculture in an African context and how that might apply in other contexts (William/Dan)
-Some deeper theological issues, e.g. centrality of the Gospel/grace, the four management principles, Isaiah 58, etc.
-Field trip to local family applying FfF.
-Swimming, fishing, and boating on our lake!
Meals and lodging are provided during the course.
To register please fill out the form below. Cost of the course is $199 per person. I will send you a link to where you can pay after we receive your info.
Please enter your contact details and a short message below and I will try to get back to you as soon as possible.